Denver Disc Jockey & Party Entertainment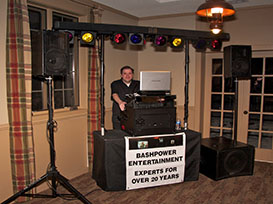 With over 20 years of experience, BashPower Entertainment Mobile DJs have provided personalized disc jockey and dynamic party entertainment services for private and corporate events in the Metro Denver Area including weddings, rehearsal dinners, corporate events and company parties for decades! Our Denver Disc Jockey crew can personalize any event to meet your specific needs. Get the music you want to hear. Let us show you the difference!
We provide the ability to customize and personalize any event or party to your exact specifications. We include plenty of party entertainment consultation and consideration to kick your party up a notch. We will do everything possible to make your next event a great event. Call us today at 303-338-0323 for a FREE consultation!!