CONGRATULATIONS!!
CONGRATULATIONS!!
Weddings
Wedding Services
Congratulations on your upcoming special day, and thank you for visiting our website. As you get to know us better you will find that our standards are very high. Our staff, our equipment, our overall performance is at the top of the industry. The entertainer at your event is very important for the overall quality of the experience, and is usually not best chosen by the smallest fee.
Endless Possibilities
We price and bid each job separately after visiting with you. We are not a cookie cutter company with one system to offer. Our capabilities are almost endless. Because of this we believe you are better served and get more value from a custom system and custom quote.
Ultimately, we would like to take the guess work out of hiring a DJ. We do this by planning ahead and listening. Again, congratulations and please call with any questions. We just may have an idea you have not considered.
Ceremony Music
We'll match your tastes with our extensive collection of both classical and contemporary wedding music.
Reception Music
We'll provide a dynamic selection of music tailored to the mood of the party.
Master of Ceremony
Our professional MCs will make you laugh and cry with personalized introductions, tasteful humor and a professional caring manor on your special day.
Lighting
We can light up both the dance floor and the wedding hall itself.
Great Rehearsal Dinner Party Ideas
Rehearsals don't need to be dull, ask us how we can provide a fun experience.
Wireless Microphones
We can capture all of your vows, toasts and speeches without the boom mics or full court press. We have many microphones that can be completely hidden so that everything can be captured without intruding on the day.
Wedding Planners
Our expert wedding consultants can help you with all formalities of ceremony and reception planning. Your wedding will be custom tailored to fit your needs and your lives together. We don't do generic packages for anyone. You're unique and your wedding should be unique.
Multiple Sound System Options
We can do everything from a tiny set up out in the woods or on a mountainside to a full surround sound experience inside the most elaborate of churches.
Expert Advice
We'll be your audio consultants through the entire process. We'll help you with what questions you need to ask and we will coordinate efforts with your ceremony location to ensure everything goes off with no problems.
Fun
Your wedding is your day, that's right YOUR day. It's supposed to be one of the greatest days of your life, and that's not going to happen without some fun. We'll make sure that the party will appeal to everyone grandma and nephew alike. This is going to be one of the best days you'll have and we would love to help make it as wonderful as possible for you.
We Promise:
We promise to remember that this is a once in a lifetime event, not just another party.
We promise to respect your wishes. It's your day. We can, and will, make it work your way.
We promise not to ask you to make decisions on your wedding day. All planning will be done in advance.
We promise to represent you well. We realize that we are your spokesperson. We'll make you proud.
We promise not to embarrass you. No surprises. No cheese. No embarrassing you or your guests.
We promise to be easy to work with. Professional, courteous, and competent.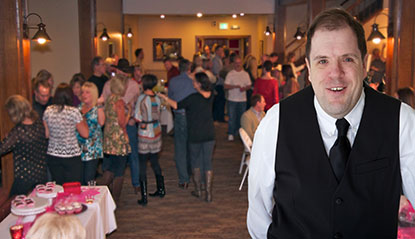 Call 303-338-0323 today for a quote!!